News:
5-19-2016

Time slots for leg pads, gloves, and blockers will be very limited in early 2016 due to my needing extra time to put together a new larger workshop. There is a lot that goes into designing and putting up a building, thank you for your patience as I work on expanding!
Courtesy services (repairs) will not be available until further notice.

During this time I will also be working on updating the website and creating new products.
This is going to be an exciting year!!!



I just updated the testimonials page!
As I get closer to moving I am starting to go through boxes and I will post anything interesting I find on the in stock page. It could be anything from knee blocks to random parts like blocker finger protectors, calf wings or toe bridges! This is great for the do it yourself types who want to fix up their existing gear or just add more protection. Keep checking back to see if anything new has been added!


Viscoelastic gel and HD Airgel foam are available to add to products. This thin but very protective material can be added to new gloves or to your current glove!
Both types are produced right here in the USA!

-----------

We make high quality custom replacement parts to keep your pads playing longer, contact us with your drawings and ideas for a quote
If you have any questions about your order or would like to place one, please email us at at paw@protectiveathleticwear.com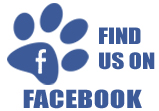 ESTIMATED CURRENT PRODUCTION TIMES
(Your order may vary)

Small items (knee stacks, knee blocks)

: 2 Weeks


Accessories (kneepads, custom parts ):

4 Weeks


Pads and gloves:

Will reopen later in 2016


Courtesy services (repairs):
No openings

We accept all major credit cards!
Why choose PAW for your next equipment purchase?
- High end custom gear made to your needs and specifications!
- No extra charge for custom colors!
- We use only the highest quality materials, both on the outside and the inside
- One on one customer service like no other! You get to talk to the person making your equipment!
- Designed and made in the USA with materials sourced from as many local suppliers as possible
- Attention to detail and accomodations for special requests
- We choose quality over quantity! This equipment is built to last!
- Buying factory direct saves you money!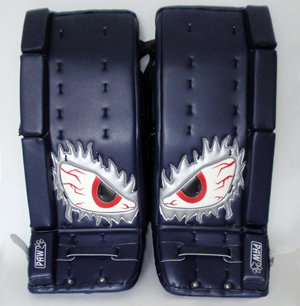 Intermediate P1000 pads with a custom graphic
and matching gloves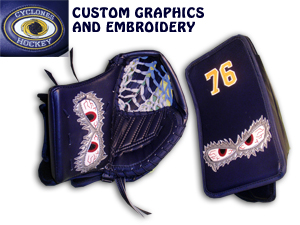 Some recent projects from PAW:
Click for a larger image

P2000 gloves and P1000 pads with a custom graphic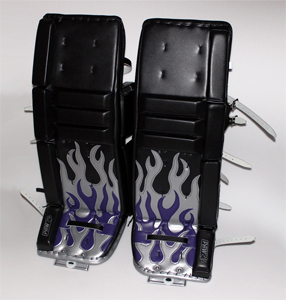 P2000 pads with flat knee rolls and a custom flame graphic



Vintage styled P2000 leg pads
P2000 leg pads with a custom graphic and embroidery



Custom PNG1000 neckguard
Best time to call: Monday - Friday : 3PM - 8 PM