PAW HOCKEY serves goalies all around the world providing them with top quality protective gear!

The ORIGINAL HOT SWAP removable blocker and catcher palms were made right here in 2007! We were the first to think of, develop, and test this technology!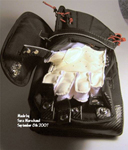 News:

11/22/2013

Happy Thanksgiving!
We will be closed from Thursday November 28th until Tuesday December 3rd for the holiday.


9/24/2013

Combo deal! Full sets of gear are only $1500 plus shipping! Includes a simple custom graphic and minor modifications.

Payment plans are always available!

8-15-2013
Padskinz are now in stock!

This is a sticky backed vinyl that is similar to jenpro in color and texture. You can apply it to your pads and gloves to change the colors easily!
I can also apply the material to your pads for you, send some pictures of your pads and gloves for a quote!
-------------------

A testimonials page has been added! If you have action shots of PAW gear or accessories email it to us and it may be featured on the website!
Take a look at the testimonials here!

Viscoelastic gel and HD Airgel foam are now available to add to products. We offer the thinnest and most protective pro palm available anywhere, it can be added to new gloves or to your current glove!
Both types are produced right here in the USA!




We make high quality custom replacement parts to keep your pads playing longer, contact us with your drawings and ideas for a quote
If you have any questions about your order or would like to place one, please email us at at paw@protectiveathleticwear.com
Why choose PAW for your next equipment purchase?
- High end custom gear made to your needs and specifications!
- No extra charge for custom colors!
- We use only the highest quality materials, both on the outside and the inside
- One on one customer service like no other! You get to talk to the person making your equipment!
- Designed and made in the USA with materials sourced from as many local suppliers as possible
- Attention to detail and accomodations for special requests
- We choose quality over quantity! This equipment is built to last!
- Buying factory direct saves you money!

CURRENT PRODUCTION TIME (Your order may vary):



Small items (knee stacks, boot lifts, etc.)

1 Week


Accessories (kneepads, knee blocks):

4 Weeks


Pads and gloves:

8 Weeks
We accept all major credit cards!
Recent projects from PAW:
Click for a larger image



Refurbished the glove, new plastic insert, and a new face with custom graphics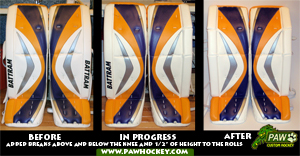 Added a double break and heightened the rolls by 1/2"
Replaced the boot panel, binding, and added a patch on the top of the boot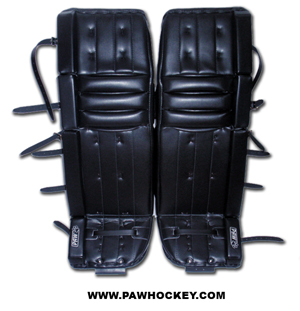 P2000 pads with toe and thigh tapering


Best time to call:
Monday - Friday : 3PM - 8 PM